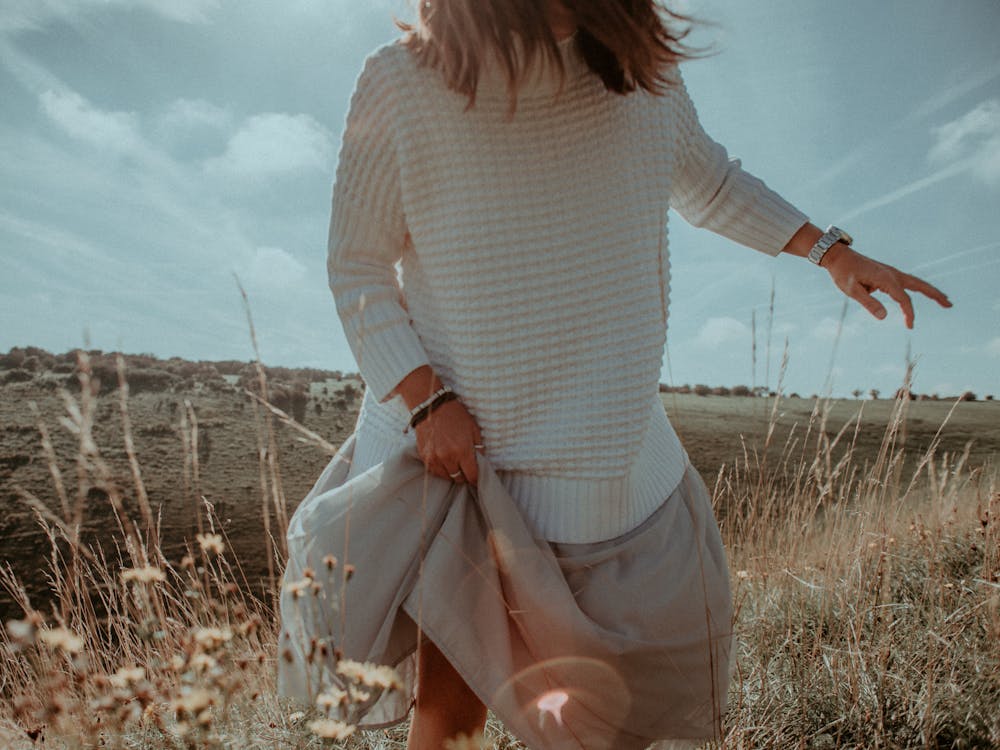 It's that moment of the year again where it's time to put away our flip flops and airy summer dresses to swap them for warmer, cozier pieces. Fall fashion can often be a confusing season to master due to the inconsistent weather - when we wake up, we might grab a coat to beat the morning chill, only to change our outfits again by mid-day when the sun is beaming. If you're wondering how to transition your summer wardrobe into an autumnal one, here is some inspiration!
Choose Deep Colours
Before reinventing your whole wardrobe in preparation for fall, you'll need to know which colors to choose. Stay with the colors of the changing leaves - think earth tones, and rich shades such as plum or turquoise.
Keep Your Long Dresses
Dresses are without a doubt a staple for scorching summer weather, but did you know that with the right adjustments, they can also make a stunning outfit choice for fall, too? Try to mix and match by throwing over a cable-knit sweater on top, a belted-blazer, or a long-sleeved top that defines your figure while adding a comfortable layer. The end result? An effortlessly gorgeous fall outfit that you can wear time and time again.
Invest in a Jacket or Coat
If you're someone who finds it hard to ditch their summer wardrobe, investing in a comfortable jacket or coat can allow you to keep the warmer months alive! Keep it casual with the likes of statement unisex design tees underneath a neutral-toned trench jacket or a buttoned double-breasted coat, or your best skater dress with tights and a chunky coat. This way, you can always choose to take off your jacket or coat and show off your summer-inspired outfit on those milder autumnal days. Don't forget, sunglasses aren't exactly banned during fall either!
Accessorize
Styling cute scarves, bobble hats, gloves, and finer details such as gold jewelry with your outfits are one of the best parts about fall. Be bold and don't be afraid to step out of your comfort zone when it comes to accessories - experiment with different tones and fun textures to discover what compliments you best. As well as providing a fashionable advantage that'll turn heads, accessories such as these will also of course keep you warm and cozy as the temperatures begin to drop. Just like an autumnal jacket or coat, scarves, bobble hats, and gloves can easily be taken off when the weather decides to take an unexpected turn.
Layer
If you want to defeat cold-weather blues, you'll need to layer up. Not only is layering up functional, but it's also a fun way to create new looks! Layering doesn't have to look bulky and be uncomfortable - try pairing cute longer-length tops like cardigans over the likes of skinny jeans, leggings, or a leather skirt with tights. If this isn't enough layers for the chill in the air, just add your favorite jacket, light accessories, and a pair of
sturdy boots
to complete the perfect fall outfit.
Thanks for reading!
Be Social. Like & Subscribe.

This post was written by a contributing author in collaboration with primadonna-style.com